Let us make the divorce process less complicated.
Gathering information about divorce law as it pertains to your situation can be emotional and stressful. Although divorce can be complicated, the process does not have to be messy, especially with the collaborative family law approach we use at Collaborative Divorce Waterloo Region.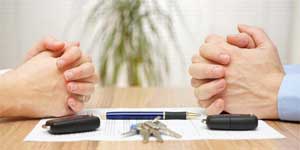 While the purpose of divorce law overall is to end your marriage, the collaborative family law process can be beneficial for the following reasons:
You can negotiate the terms of your divorce on your terms and outside of the court system.
You and your spouse focus on collaboratively working through issues, instead of confronting each other.
You can get through your divorce relatively quickly, saving you money and time.
You keep your divorce completely confidential, unlike when you go to court where all information becomes public record.
You and your spouse come to a settlement that is acceptable to both of you, instead of one that a judge imposes on you.
Even if you and your spouse are having communication problems, the collaborative family law process can still work for you. Our legal, family, and financial professionals who work in the Kitchener, Ontario area can help you work through your issues and come up with an end-result that is beneficial for everyone in your family.
Take the next step toward the life you want to live by contacting one of our professionals about your situation and how divorce law relates to it. We are ready and waiting to help you through this difficult time in your life.
---
Divorce Law
Divorce Law in Waterloo, ON
Divorce Law in Cambridge, ON
Similar Services We Offer: